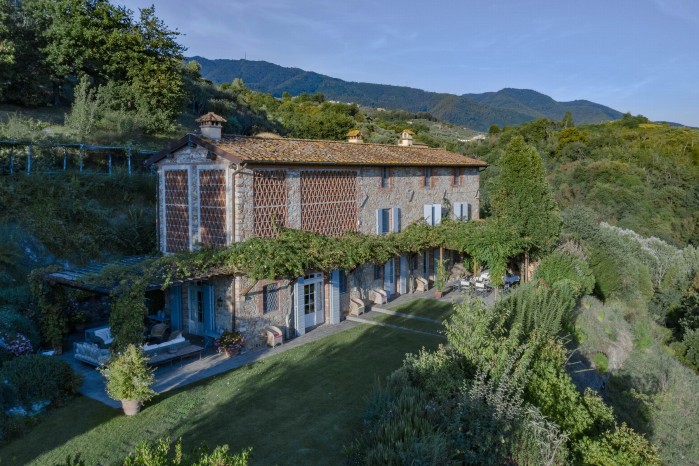 Accommodation Type:
Villas
Area:
Lucca area
Position:
Countryside
Province :
Lucca
This elegant villa is perched high on a green hill at just 9 km from the beautiful walled town of Lucca. From here one can also admire the stunning Apuan Alps crowning the horizon. The hill on which the villa sits is divided into various terraced areas; visually impressive, it is a typical feature of this area of Tuscany. The villa itself is found on the first terrace; the second terrace hosts a beautiful swimming pool (7x14, from c. 1mt to 2,5 m in the deeper end - well-equipped with all the necessary amenities for relaxing or sun-bathing) facing the open valley and providing a lovely spot from which to enjoy the spectacular panorama.
An additional gazebo provides a covered area where one can enjoy cool summer breezes. A small nearby annex serves as a changing room and is also equipped with a bathroom, shower, refrigerator and two single beds.
Outside, the villa appears as a long building covered in original stone walls and displaying, on its left side, a series of typical red brick decorations. The garden has a beautiful lawn embellished with large vases containing flowers, citrus trees, aromatic plants and climbing vines. The house has two outdoor areas: the first, contiguous to the shorter wall, where couches, armchairs and small tables provide a comfortable lounge area for relaxing moments; the second, located near the kitchen, where a table and chairs are set up for al-fresco dining.
From the lounge area a stairway leads up to a greenhouse; a welcoming and intimate
[Continues..]